hsa-mir-802 lentivirus (1ml)
hsa-mir-802 lentivirus (1ml)
Description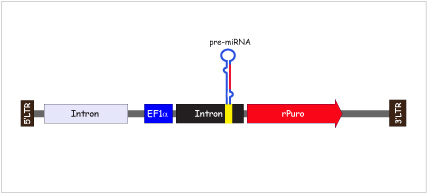 Human microRNA (hsa-mir) precursors and approximately 100-bp upstream and downstream flanking genomic sequences were PCR amplified and cloned into a self-inactivated (SIN) lentiviral vector to generate pLV-miRNA vectors. The cloning site of pre-miRNA genomic fragments is within the intron of human EF1a promoter region.
Advantages
The pLV-miRNA plasmid is an optimized vector system for miRNA expression.
-Unlike other available miRNA expression vectors, the miRNA precursor is cloned into the intron of human housekeeping gene EF1a promoter region. Therefore, the process of miRNA in intron minimizes impact on expression of selection marker. Since the miRNA precursor and the selection marker are in the same transcription unit, miRNA transcriptional activity can be easily monitored.




Lentiviral transduction is one of the most effective delivery systems to express miRNA, shRNA, cDNA, etc.
-Unlike the retroviral system, the lentiviral integration is cell cycle independent. The genetic materials encoded by the lentivirus can be efficiently delivered into both dividing and non-dividing cells.




Our lenti-miRNA viral genome is integrated into its host chromosome
-Biosettia's lenti-miRNA is integrated into its host chromosome, thus allowing it to be stably expressed in transduced cell lines.




Our human EF1a promoter is unlikely to be silenced in cells.
-It has been reported that the activities of some viral promoters such as CMV and SV40 are potentially silenced by DNA methylation after a period of time. The human EF1a promoter, used to express miRNA precursors and the puromycin selection marker, is a house-keeping gene promoter. Therefore, it is unlikely to be silenced by methylation in vitro and in vivo.




Our rPuro gene product, expressed from the EF1a promoter, is the red fluorescent puromycin-N-acetyl-transferase.
-Model cells transduced by lenti-miRNA can not only be selected in the presence of puromycin in the medium, but also display red fluorescence at excitation/emission wavelengths of 587/610 nm.




Each miRNA precursor in the lentiviral vector was cloned from its native context, including its flanking and stem-loop precursor sequence.
-This ensures that each miRNA is properly expressed and processed, and would function similarly to its endogenous form.
Details
Product Details and Specifications
Product Name
hsa-mir-802 lentivirus (1ml)
Product Catalog Number
mir-LV474
Price
300.00 USD
miRNA Name
hsa-mir-802
miRNA Accession
MI0003906
Shipping Conditions
Shipped in dry ice. Please note that additional shipping charges may apply.
Storage Conditions
Store at -80 degrees Celsius
Protocol
Download PDF
Related Products
FAQ
What is the general turnaround time for this product?
All of our 1 ml miRNA lentiviruses and plasmids online are in stock and are generally shipped within one business day of purchase. All others may take additional time to ship. Our plasmids are shipped in glycerol stock and should arrive the next business day within the US. Please note that international shipments may require extra time to clear customs.




Will your human miRNA work in mice?
Biosettia's human miRNAs are cloned as its precursor + 100 bp flanking sequences to ensure proper expression of its mature sequence. While we can only guarantee expression as human miRNA, please note that many human and mouse mature sequences are identical.




Our experiments require higher titer / volume, are these options available?
Our miRNA has been used in many types of experiments where the standard titer and volume are not sufficient. Biosettia routinely provides customers with high-titer virus for their work. To request a quote or more information about these products, please e-mail info@biosettia.com with your information and one of our representatives will contact you to discuss your experiment and the best option for you.




Additional questions or comments may email: info@biosettia.com
Seed Details
---
hsa-miR-802 has a unique seed sequence.

Updating...